Trains

Names

Little Blue Train, Red Train, Green Train, Gray, Dancing Train

Genders

Male (green, blue, gray) female (dancing train, red)

Species

Trains

Occupations

None

Interests

Racing, blowing whistles

Relatives

None known

Friends

Enemies

First Appearance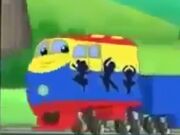 The Trains are five different-colored connected series of vehicles for rail transport that move along tracks. Each One of Them Own a Whistle, Though But The Little Blue Train Did not have one until he won a train race and received One as a prize. Three of the trains are males the Blue and Green Trains And One Is A Female.
Description
Classified as minor characters in the Dora the Explorer television series, the trains are fast trains who appear in Choo-Choo!. Dora and Boots are good friends of the Little Blue Train, Azul. There is also a gray train, he isn't in the race but Dora, Boots and Azul meet him in the cave.
Looks
One Train Is Blue, One Is Red, One Is Green and one is Gray. Each Have White Eyes With Black Pupils And A Whistle As Well As Many Wheels. The Green train is the largest and Azul is the smallest. The Red Train and Gray train are the same size.
Appearances
The Red, Green and Gray Train Only Appear In Choo-Choo!. Azul Appears In a few other Episodes. The Dancing Train appears in Dora's Dance Show.