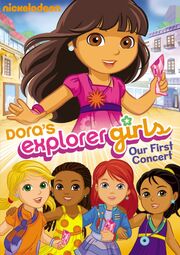 Our First Concert is a television special featuring the now 11 year old Dora and her Explorer Girls. It premiered on August 7, 2011 and was released on DVD on May 15, 2012.
Characters present
Summary
Dora is growing up as a preteen. She's so excited to see a concert with her new friends Alana, Emma, Naiya and Kate. But everything grounds to a halt. Alana said she had the 5 tickets in an envelope with the first letter for each name. But she accidently donates her blue soccer jacket with 5 tickets in the envelope by mistake. Can the group retrieve their tickets before it's too late?
Songs
Listen to the Sounds
Following the Map
The City Under the City
Por Favor (translated as "Please")
The One With the Blue Jacket On
Bicicletas (translated as "Bicycles")
Anything Can Happen (At Carnival)
Over the City
Tira La Pelota (translated as "Throw the Ball")
Did it Again
Trivia
During the underground city sequence, flashbacks from Super Spies, The Shy Rainbow and We All Scream for Ice Cream were shown.
Dora's friends went to many places on their quest to retrieve the concert tickets.
Boots was seen near the end of the episode.
This was a pilot episode before Dora and Friends: Into the City! premiered in 2014.

On top of that, it lasted over 30 minutes.

Before Dora and Friends: Into the City! premiered, they discover that Alana is into sports; Naiya knows her way around cities that are ancient and modern and Emma is into music and can play the violin.
This episode has 12 songs, counting all versions of Todos Juntos as one song, the second most amount of songs in any Dora episode.
The background in the closing credits is similar to the one in Dora and Friends, but with a cloud in the backdrop.
Video
Video
Gallery
Community content is available under
CC-BY-SA
unless otherwise noted.