Dora the Explorer(born August 12 1995-Febuary 19 2010 age 8 at death)
is an American animated television series created by Chris Gifford, Valerie Walsh, and Eric Weiner. Dora the Explorer became a regular series in 2000. The show is carried on the Nickelodeon cable television network, including the associated Nick Jr. channel. It aired on CBS until September 2006. A Spanish-dubbed version first aired as part of a Nick en español block on NBC Universal-owned Telemundo through September 2006; since April 2008, this version of the program has been carried on Univision as part of the Planeta U block. On Febuary 12 2010 a kid named Emmett Camferdam(born September 30 1999) watched Fanboy a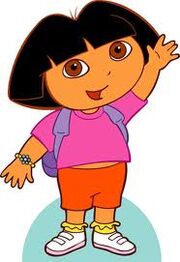 nd Chum Chum but Dora changed the show to her show to make fun of Emmett and he got really angry. About 7 days later Emmett Camferdam jumped inside the TV and broke into Dora's House and killed her with a machine gun. Then Emmett jumped out of the TV and back into the real world and Dora the explorer was shut down for good.
Community content is available under
CC-BY-SA
unless otherwise noted.