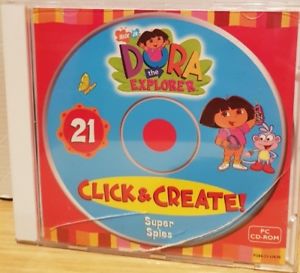 Dora the Explorer: Click and Create!
is a software for the PC. It was released in the UK only in 2005.
The game
This software has many options which the player can choose.
Watch Episode
The player must click a TV to watch an episode that gave the disc its name. Somewhere in the episode, a star will pop up, and the player needs to click it to play a game.
Quiz
The player needs to click a TV with a "Q" to play a quiz based on the episode from the disc.
Stars
Some Explorer Stars can make the player play games.
The

Yellow

Star lets the player play an art-related game.
The

Green

Star lets the player play a music-related game.
The

Pink

Star lets the player play a game, which randomly changes each disc.
Discs
The Big Red Chicken
At the Beach
The Train Race
Treasure Island
On the Farm
The Wizzle and the Wishes
Surprise Party!
The Bugga Bugga Bugs
A Fish Out of Water!
The Little Tree Frog
The Magic Flute
To the Treehouse
The Big Storm
Racing Around!
The Squeaky Toy
Mother's Day
Doctor Dora
Circus Adventure!
A Letter for Swiper
Hide and Seek!
Super Spies
School Pet
Wakey, Wakey!
Robot Rescue!
Meet Diego!
Dino Island
To the South Pole!
Super Silly Fiesta!
Jobs, Jobs, Jobs!
Star Catcher!
Silly Seasons
Swiper the Explorer!
Dora's First Adventure
Star Mountain
Spy Time!
A Musical Adventure!
Daisy's Party!
Save Diego!
Baby Jaguar's Roar
King Juan's Crown
Dora's Puppy!
Big Sister Dora!
Boots to the Rescue!
Super Babies!
We're a Team!
The Shy Rainbow
Baby Crab
To the Rescue!


Community content is available under
CC-BY-SA
unless otherwise noted.