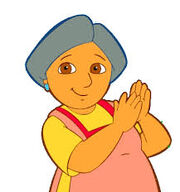 Valerie "Abuela" Marquez is the lovely grandmother of Dora, Guillermo, Isabella, Alicia, Daisy and Diego. She is the mother of Miguel and Nico and the mother-in-law of Elena and Melanie. She was voiced by Socorro Santiago until Season 5, and currently by K.J. Sanchez. She is 74 years old and was born in 1926.
Family
Description
Abuela has gray hair, has peach skin and wears a yellow dress. Her eyes are brown with black pupils and is seen wearing pink slippers. Her natural hair color is brown.
Appearances
Abuela is a recurring character and has appeared in some episodes of Dora the Explorer. Her first appearance was "Grandma's House".
Trivia
Gallery
Community content is available under
CC-BY-SA
unless otherwise noted.